Federal Work Study Guidelines
This page contains information on Federal Work Study (FWS) for employers. Below you will find resources for general guidelines, timesheet maintenance, job posting templates with examples, and how to check a student's FWS eligibility in Workday. Before hiring any Federal Work Study students, please be sure to confirm your eligibility as an employer.
General Guidelines
All FWS employment must provide a reasonable and appropriate rate of pay based on specific criteria: the type of work performed, where the work is performed, the employee's skills and experience, and any established minimum wage rates based on geographic location.

FWS employment must not displace employees (including those on strike) or impair existing service contracts.
Replacement is interpreted as displacement. Replacing a full-time employee whose position was eliminated (for any reason) with a student employee paid with FWS funds is prohibited.
FWS positions must not involve constructing, operating, or maintaining any part of a building used for religious worship or sectarian instruction.

Off-campus FWS jobs with public agencies or private nonprofit organizations must be in the public interest. Off-campus FWS jobs with private, for-profit organizations must be academically relevant. A school must offer FWS jobs that will provide students with meaningful learning experiences that help meet educational or career goals.
Timesheets Maintained By Each Hiring Department
Adequate timesheets or records of hours worked for FWS students must be maintained by the hiring department. These timesheets must show, separately for each day worked, the hours a student worked and the total hours worked during the job's payment cycle (i.e., twice a month, every week, every two weeks, etc., but not less than once a month). These amounts and hours recorded must match the hours for which the student is paid. 
Source: Federal Student Aid Handbook, Volume 6 – The Campus-Based Programs, Chapter 2 – The Federal Work Study Program
Job Posting Template
Name/Title of the Position:
Classification of the Position:
Employer Name:
Employer Address:
Employing Department/Office:
Physical Work Location/Address:
Name of Supervisor:
Dates of Employment:
Rate of Pay:*
Purpose or Role of the Position Within the Organization: 
Duties/Responsibilities of the Position:
Required Qualifications/Skills/Experience: 
*Note: Rate of pay must be documented on the job posting in advance of interviewing/hiring.
Resources:
University Student Job Classifications
Student Wage Scale
---
Job Posting/Position Description Sample 1: 
Student Employment Assistant
Student Administrative Assistant I
Office of Financial Aid and Student Employment
203 Day Hall, Ithaca, NY 14853
Supervisor: Carina Clayton
Dates of Employment: August 11, 2022 –  May 31, 2023
Rate of Pay: $13.20/hour
 
Purpose or Role of the Position Within the Organization: 
As a Student Employment Assistant, you will provide administrative support to the Student Employment Coordinator while maintaining the integrity of the office. We are looking for a responsible individual who has the ability to work independently on a variety of tasks while complying with the office's standards of confidentiality. No prior experience is required.
Duties/Responsibilities of the Position: 
Answer incoming phone calls
Respond to student employment inquiries via email
Review student employment website for inaccuracies and updates
Required Qualifications/Skills/Experience:
Excellent communication and organizational skills
Ability to communicate clearly and effectively with campus partners
Ability to work independently and in a timely manner
Must have working knowledge of Microsoft programs
Be able to multi-task and adapt to changing priorities 
---
Job Posting/Position Description Sample 2: 
BirdSleuth Assistant
Student Community Service Assistant III
Employer: CALS – College of Agriculture and Life Sciences
Employer Address: 140 Roberts Hall, Ithaca, NY 14853
Employing Department: Lab of Ornithology
Physical Work Location: 159 Sapsucker Woods Road, Ithaca, NY 14850
Supervisor: Jacquie Kennedy
Dates of Employment: June 1, 2023 – August 9, 2023
Rate of Pay: $16.00/hour
Purpose or Role of the Position Within the Organization: 
The Lab of Ornithology is looking for assistance with our monthly newsletter and general office support.
Duties/Responsibilities of the Position: 
Design and write newsletters and blogs
Research, develop, and present curriculum materials being revitalized for K-12 educators
Provide administrative assistance
Required Qualifications/Skills/Experience:
Excellent spelling, grammar, and punctuation
Ability to collaborate with others
Ability to communicate effectively
Working knowledge of Microsoft Word
Excellent time management
---
How to Check for Federal Work Study Eligibility in Workday
In the Workday search bar, if you type 'student: [first name last name]' it will pull up the student record. You can also click on "Student" from the choices under "Categories" after typing in the student name.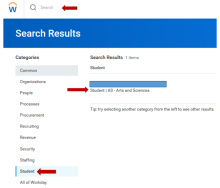 Work Study Eligibility status in Workday can be found on the student record under Overview: